Description
Description
Meet the Fitbit Inspire HR, your new partner who will guide you towards a healthier lifestyle. From tracking your heart rate and sleep quality to the number of calories you burn and the steps you take, the Inspire HR is designed to get you up and moving.
Product Description
Get fit in style with the Fitbit Inspire HR that comes with various innovative features such as a Heart Rate monitor, sleep tracking, activity tracking, food logging, notification alerts and more. This smartband is the ideal trainer for anyone who's looking to stay fit and healthy.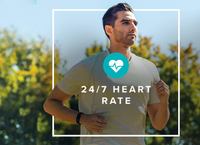 24/7 Heart Rate Monitoring
It lets you view your resting heart rate, heart rate zones, so you can optimise your workout accordingly with the right amount of effort.
Cardio Fitness Level
You can use the Fitbit app to view your Cardio Fitness Score which is a representation of how fit you are. It also provides helpful tips on how you could improve.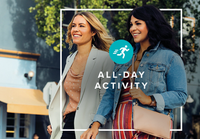 All-day Activity Tracking
The Inspire HR tracks the number of steps you've taken all day, the total distance covered and the calories burnt, which serve as a motivation to improve your fitness level day by day.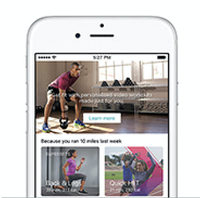 Automatic Exercise Recognition
By using SmartTrack, the Inspire HR automatically recognises workouts such as walks, runs, swims, bike rides and more, and lets you view the recorded stats in the Fitbit app.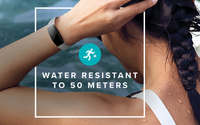 Swim-proof and Swim Tracking
Jump into the pool for a swim and track how long you're swimming with the Inspire HR. It is water resistant up to 50 metres, so you can dive in and swim without any worry.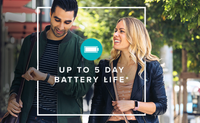 Long Battery Life
You don't have to worry charging this smartband frequently as it features a battery life of up to five days.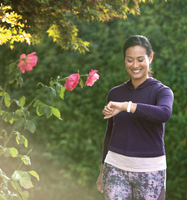 Real-time Pace and Distance
You can view real-time pace and distance during your morning walks, jogs, hikes, and bike rides by connecting this smartband to your phone's GPS.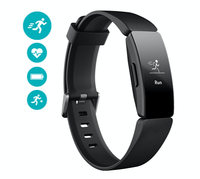 15+ Goal-based Exercise Modes
No matter what type of exercise you're doing, the Inspire HR lets you set targets for the calories burnt, the distance covered or the time taken, and provides you with real-time updates when you reach each goal.
Guided Breathing Sessions
This smartband analyses your heart rate and provides personalised breathing sessions, helping you find moments of calm throughout the day.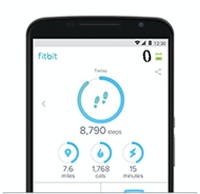 On-screen Dashboard
It motivates you to hydrate yourself and be more active, thanks to its easy-to-use dashboard which tracks the number of steps taken and the calories burnt.
Food Logging
You can use the Fitbit app to log your meals and compare the calories eaten to the calories burnt. This helps you accomplish your goals by helping you stay on top of your fitness regime.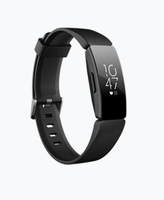 Notifications
It provides updates from social media apps, and also provides alerts for calls, calendar and text alerts when your phone is nearby, so you can be connected on the go.
Timer and Stopwatch
It also includes a timer and a stopwatch which come in handy when cooking healthy meals or while tracking sets at the gym.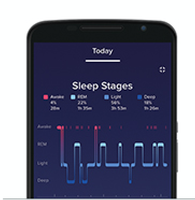 Sleep Tracking
It helps in improving your sleep quality by showing you how much light, deep, and REM sleep you are getting every day. It also comes with silent alarms on your wrist and bedtime reminders which ensure that you are getting the right amount of sleep.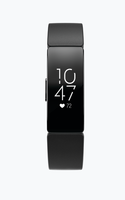 Intuitive Touchscreen Display
Its touchscreen features a backlit OLED display, so swiping and scrolling on the screen feels natural and easy.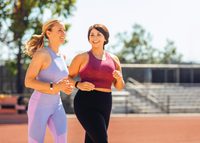 Female Health Tracking
It also lets you track your cycle, record symptoms and more, so you can notice patterns and understand your body on a deeper level.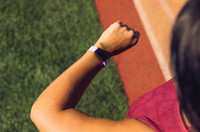 Reminders to Move
We often forget to stay active. The Inspire HR encourages you to take 250 steps every day and also recognises when you hit the 250 mark.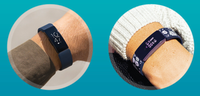 Clock Faces
The clock face of this smartband can be customised according to your preference – a helpful clock face which shows your fitness stats or a polished clock face for work.
Wireless Sync
It automatically connects to over 200 Android, iOS and Windows 10 devices, allowing you to get a cohesive view of your progress dashboard.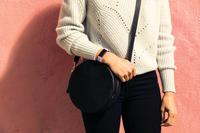 Fashion Forward
Made of comfortable silicone, this smartband is both lightweight and stylish making it ideal for any type of outfit.
Specifications
General
| | |
| --- | --- |
| Model Number | |
| Model Name | |
| Reading Type | |
| Ideal For | |
| Material | |
| Suitable For | |
| Touch Enabled | |
| Water Resistant | |
| Function | Display Time/Date, Vibration Alarm Clock, Incoming Call Notification, Automatic Exercise Recognition |
| Indicator Type | |
| Compatible Devices | |
| Sales Package | Smart Band, Extra Strap, Charging Cable, User Manual |
Performance Features
| | |
| --- | --- |
| Activity Tracker Present | |
| Activity Tracking Function | Monitor Heart Rate, Step Count, Sleep, Distance Traveled, Calorie Burned, Hourly Activity and Active Minutes, Female Health Tracking |
| Sensor Type | |
| Compatible OS | |
| Heart Rate Monitor Present | |
| Shock Resistant | |
| Water-Resistant Depth | |
Connectivity Features
| | |
| --- | --- |
| Wifi Enabled | |
| Bluetooth Enabled | |
| Bluetooth Version | |
| Wireless Options | |
Display & Battery Features
| | |
| --- | --- |
| Display Type | |
| Display Resolution | |
| Backlight Present | |
| Battery Life | |
| Battery Type | |
Warranty
| | |
| --- | --- |
| Warranty Summary | 1 Year Warranty Provided by the Manufacturer from Date of Purchase |
| Service Type | |
| Covered in Warranty | |
| Not Covered in Warranty | |
| Domestic Warranty | |